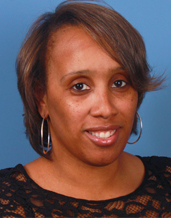 Program Manager-Community Services
Phone: 704-536-6661 Ext. 438
This email address is being protected from spambots. You need JavaScript enabled to view it.
Erica joined InReach in 2013. She is a Program Manager in our Community Services Department and manages our B3 Respite services and our State-Funded AFL homes. Prior to joining InReach, Erica was a Case Manager for 8 years, providing Targeted Case Management services to individuals with Intellectual/Developmental Disabilities in Mecklenburg County. With her experience and knowledge, Erica also fields our inbound calls from individuals and families who are seeking information about services. She is active with our Inside InReach Lunch & Learn sessions and she attends Community Fairs to help spread the word about InReach and educate families on services that are available to them.
Originally from West Virginia, Erica earned her Bachelor of Science Degree in Public Service Administration from West Virginia University Institute of Technology and minored in Sociology.