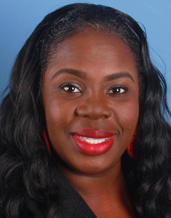 Project Coordinator
First In Families
Phone: 704-536-6661 Ext. 437
This email address is being protected from spambots. You need JavaScript enabled to view it.
Keiba Young joined InReach in July 2015, as the Project Coordinator for First In Families of Mecklenburg County. Ms. Young assists families and individuals with intellectual and developmental disabilities by identifying resources to meet their basic needs, such as food, clothing, and shelter.
Young, is the former Program Administrator within the Division of Quality & Patient Safety at a public healthcare system in Florida. She has also served as the Juvenile Family Violence Counselor for a youth intervention program.
Keiba earned her Master degree in Public Administration, with a post-graduate certification in Emergency Management from Florida International University. She earned her Bachelor degree in Public Administration with a minor in Human Resource Management from Barry University. Ms. Young also earned her Associate degree in Journalism/Mass Communication from Miami Dade College.
Ms. Young serves as an active member of Mecklenburg County Women's Advisory Board, the International City Managers Association, and the American Society for Public Administration.